Yamaha Kodiak 450 c/w Electric Power Steering (EPS) & Diff-Lock
Only 1 Green Kodiak's in Stock 
As used by HM FORCES (ARMY) and Forestry Scotland
If it's tuff enough for them it's tuff enough for YOU
Kodiak 450 EPS & 

Diff Lock
With its rugged chassis and high-torque engine, the Kodiak 450 EPS DL is a tireless worker that can carry 120kg on its racks – or tow up to 600kg – allowing you to traverse extreme terrain with tools, provisions or equipment.
Please contact our Sales, Service or Parts teams on 01349 863854 if you have any questions.
Full Description
Tech. Specification
Releated Products & Accessories
Product Reviews (0)
Full Description

Kodiak 450 c/w Independent Rear Suspension (IRS)
A Force of Nature
Kodiak is already the leading name in the large capacity utility ATV world. And now we're taking the mid-sized utility class to the next level with the rugged Kodiak 450.
Its easy to use technology, outstanding durability and Yamaha reliability enable the Kodiak 450 to take on the toughest jobs in extreme terrain. The industry-leading On Command drive system allows you to switch seamlessly between 2WD and 4WD at the push of a button – and the Ultramatic automatic transmission makes every task more relaxing and enjoyable.
In terms of comfort and convenience, nothing comes close! And when work's over, this versatile ATV adds a new dimension to your precious leisure time.
Details
Versatile and practical mid-sized utility ATV
All day comfort, added functionality, easy to use
Designed for work and leisure
Premium Yamaha quality with great value for money
High torque 421cc 4-stroke engine
Economical and reliable Electronic Fuel Injection
Compact body design with roomy riding space
Long travel suspension with gas shock absorbers
On Command push button 2WD / 4WD drive system & 4WD with Diff Lock
Ultramatic automatic CVT transmission
120kg rack carrying capacity 600kg towing capacity
WARN Vantage 2000 winch
New Yamaha 421cc EFI engine
The Kodiak 450 has the power to conquer the toughest terrain thanks to its new 421cc single cylinder liquid cooled engine that produces plenty of smooth torque at low revs. Its Electronic Fuel Injection system ensures easy starting in hot or cold conditions at a range of altitudes, giving reliable and economical performance wherever you go.
Electric Power Steering (EPS)
The Kodiak 450 EPS model is equipped with Yamaha's highly acclaimed Electronic Power Steering (EPS) that is specially designed to give you the best balance of rider assist combined with a natural and positive feel. And for additional illumination, the EPS model features a powerful halogen handlebar-mounted high beam headlight.
25-inch tyres with wide tread width
So that you can find the optimum traction even on the most challenging terrain the Kodiak 450 is fitted with specially developed front and rear tyres. Featuring an all-terrain tread pattern, the extra-wide AT25x8-12 front tyres and the AT25x10-12 rear tyres find extra grip whether you're riding across mud, snow and rock.
New long-stroke KYB gas charged front & rear shocks
The newly developed all-round independent double wishbone suspension gives 171mm front wheel travel and 189mm rear wheel travel, helping to make light work of extreme terrain. And with their ability to soak up bumps, ruts and other obstacles, the KYB gas-charged adjustable shocks deliver all day riding comfort.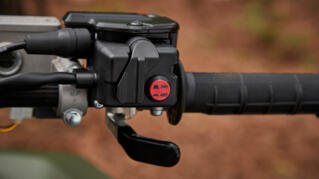 On-Command 2WD/4WD/Diff Lock
The Kodiak 450 EPS DL models are fitted with an easy to operate On-Command® system with 2WD/4WD and 4WD with Diff Lock for full control and for quick and effective switching between 2WD and 4WD, or even full diff lock allowing you to choose the right option to suit the terrain and surface conditions. Ultramatic® CVT transmission
Ultramatic® CVT automatic transmission makes every trip easier and more enjoyable, both for seasoned riders and also for new entrants to the mid-sized utility ATV class. Its durable V-belt delivers smooth acceleration – and the Kodiak 450's sophisticated all-wheel engine braking system gives you added confidence and control on downhills.
Precise and nimble handling
All day comfort comes as standard with the Kodiak 450, making this mid-sized utility ATV ideal for work and play. Featuring a low centre of gravity, the newly designed chassis delivers precise, nimble and confident handling for maximum riding enjoyment – and for an extra smooth ride, the engine features special vibration-reducing mounts.
Compact body size with full size ergonomics
By choosing the Kodiak 450 you're getting the best of both worlds, because this mid-sized utility ATV benefits from a compact and stylish new body design that's easy to manoeuvre in difficult terrain – while the spacious and ergonomic riding position ensures all day comfort whether you're working hard or enjoying some time off.
Handlebar mounted LCD dashboard
The handlebar mounted LCD dashboard features neutral, reverse and park indicator lights on the left – with coolant temperature, engine management and a 4WD engagement indicator on the right. And to keep you informed throughout your ride, the LCD display includes a speedometer, odometer, tripmeter, hour/service meters and fuel meter.
Taking mid-sized utility ATV design to the next level
The Kodiak 450 features the same rugged, functional and user-friendly design as our legendary big bore Kodiak 700. With a range of service friendly features, including an easily accessible air filter and oil dipstick, this tough mid-sized utility ATV is built to get the job done in the toughest terrain.
WARN Vantage 2000 winch
To underline its position as the definitive mid-sized utility ATV, the Kodiak 450 is fitted with a powerful WARN Vantage 2000 winch. With a payload capacity of 40kg on the front rack and 80 kg on the rear rack – as well as a towing capacity of 500kg – this rugged all terrain vehicle is ready to work tirelessly in the farm, forest or paddock.
Download Technical Specifications Factsheet
Two year warranty on all new Yamaha Utility ATV's
Subject to complying with the recommended service schedule
Servicing must be carried out by an authorised Yamaha Motor UK ATV dealer
Engine must be run on Yamalube oil.
Terms and conditions apply
Terms & Conditions
All Yamaha Grizzly and Kodiak models, model years from 2008 and onwards imported by Yamaha Motor Europe N.V., branch UK, purchased carry a 1 year manufacturers warranty. All Grizzly and Kodiak ATV's purchased for in the UK and registered on the Yamaha warranty system will be eligible for an additional year giving a total of 2 years warranty cover. Offer open for a limited period, consult your dealer for details. All cover is subject to regular servicing, as specified in the relevant Yamaha owners manual.
Product information WARN Vantage 2000:
The WARN Vantage 2000 is exclusively built for Yamaha and will be fitted as standard in Europe on the Grizzly 350 and Kodiak 450, for all colour options. The winch will be completely mounted and wired and thus ready to use.
The WARN Vantage 2000 is a compact and powerful winch package, great for smaller ATV's like the Grizzly 350 and Kodiak 450. This winch offers best-in-class durability, reliability and performance.
With 907 kg of pulling capacity, the Vantage 2000 offers you big value and will ease your daily outdoor work:
• 15 meter x 4mm steel wire rope
• Roller fairlead with 4 drum cable guidance
• Fully sealed (o-ring) motor and drive train to keep the elements out
• Differential planetary gear train and dynamic brake
• High strength composite end-housing
• Permanent magnet motor
• Includes handlebar-mounted mini rocker control (sealed and potted switch)
• CE compliant
• Best-in-class durability
• Corrosion resistant zinc tie-rods and hook.

EASI ATV Rider Training
All customers purchasing new ATVs from an official UK dealership can take advantage of a European ATV Safety Institute Rider Training Course.
New Owners
Included in the retail price of all new Yamaha All Terrain Vehicles purchased after 3rd April 2006 is a one place to attend a European All Terrain Vehicle Safety Institute (EASI) Rider Training Course.
The 4.5 hour 15 lesson course, is designed for all levels of rider ability from entry to experienced, and offers fundamental advice on machine pre ride checks, use of protective clothing & equipment and riding techniques.
Further places can be booked at the point of sale for up to four riders at the heavily subsidised rate of £90.00 per person.
***For local deliveries in the Highland and the Isle of Skye we use our own delivery vehicles and are able to do a Pre-Delivery Inspection (PDI), test and hand over products within Highland's postcode area.
Frank Nicol Ltd are able to provide a comprehensive distribution service to the majority of the UK. Please note that due to the size and weights of these products they may incur a delivery charge over and above those displayed at the checkout. 
Out with the Highlands it would be advisable to contact us before placing your order to discuss any possible delivery charges.***
Tech. Specification
Releated Products & Accessories
Product Reviews (0)
©2021 Frank Nicol Farm & Garden Machinery Ltd
Website by Navertech