STIHL RMA 339 C CORDLESS LAWN MOWER
Unique mono-handle for easy access to grass box
Delivers a precise finish thanks to the blade design
Automatic eco mode to maximise the battery
Please call our Sales, Service or Parts teams on 01349 863854 for any enquiries.
Full Description
Tech. Specification
Releated Products & Accessories
Product Reviews (0)
Full Description

STIHL RMA 339 C CORDLESS LAWN MOWER
The RMA 339 C is the ideal lawn mower for medium-sized lawns.
It is quiet and manoeuvrable so you can navigate your flower beds, patios and garden furniture with ease, and the central cutting-height adjustment makes it simple to cut your grass to the length you want. The unique mono-handle design is sturdy but versatile – it can adjusted to suit your height, it folds over for easy storage and, best of all, it gives you easy access to the grass catcher box when you need to empty it.
The automatic eco mode and flow-optimised blades maximise the battery life on your RMA 339 C and it is so easy to use too – just pop in the battery, switch it on and get mowing!
Area covered using recommended AK 20 battery: 250m²
Area covered using AK 30 battery: 330m²
FEATURES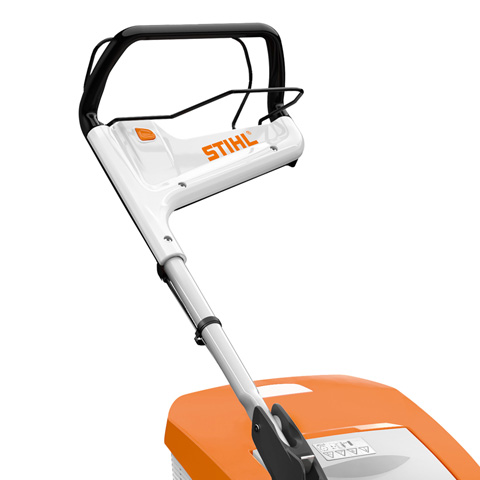 HEIGHT-ADJUSTABLE, MONO-HANDLE DESIGNThe unique design of the mono-comfort handlebar on the RMA 339 C means that the handle can be simply adjusted to suit your height or folded over completely with one press of the lever. It also gives you clear access to the grass catcher box – there's no need to pass it between the handles, just lift it straight off in one movement.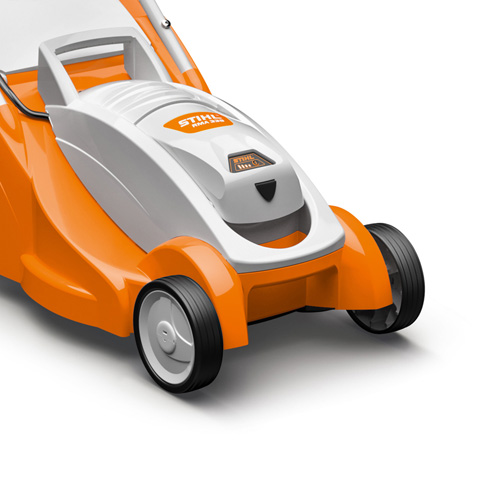 CARRYING HANDLESA carrying handle has been built into the body of the mower to make it easy for you to transport it.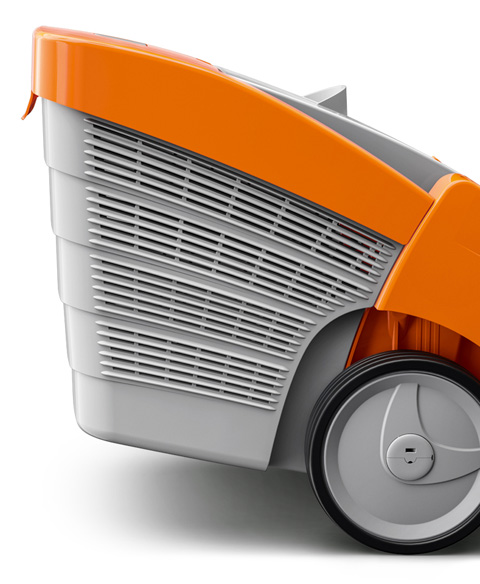 INNOVATIVE GRASS CATCHER BOXThe grass catcher box is made of a sturdy plastic, and is easy to empty through the clam-shell opening – simply hold the box over the bin or compost heap using the handles on both sides and pull it open. The box also has vents on all sides that face downward so you won't get covered in dirt and dust when mowing.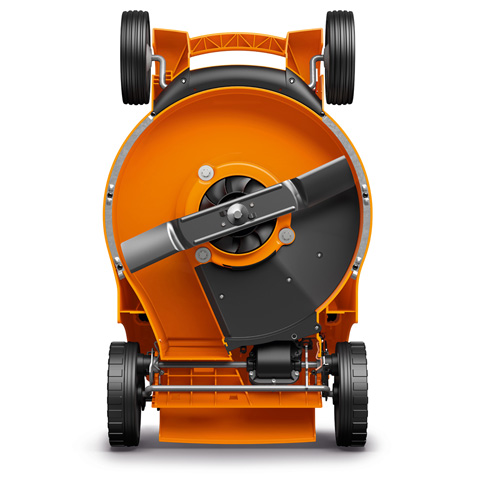 FLOW-OPTIMISED BLADESAll STIHL lawn mowers have a flow-optimised blade to lift and neatly cut the grass, without using unnecessary battery power.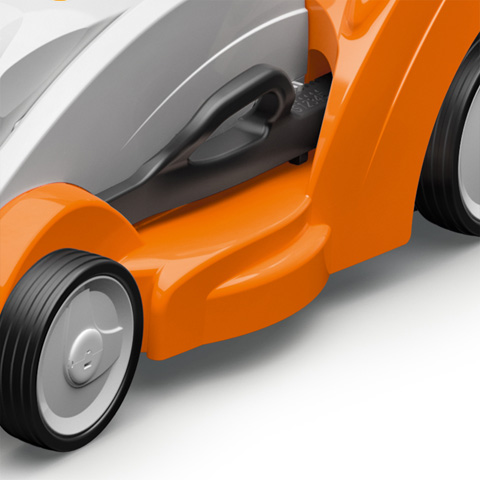 CENTRAL CUTTING HEIGHT ADJUSTMENTIt's easy to adjust the cutting height of the mower in one easy movement with the spring loaded lever. There are five different heights to choose from between 20 and 70mm.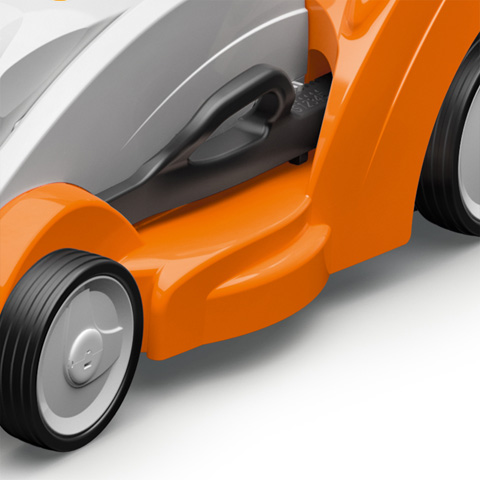 POLYMER HOUSINGThe housings of the STIHL battery-powered lawn mowers are made of a high-quality polymer material. This extremely lightweight polymer housing combines high resistance and robustness against forces, heat and UV radiation.Easy-running wheels.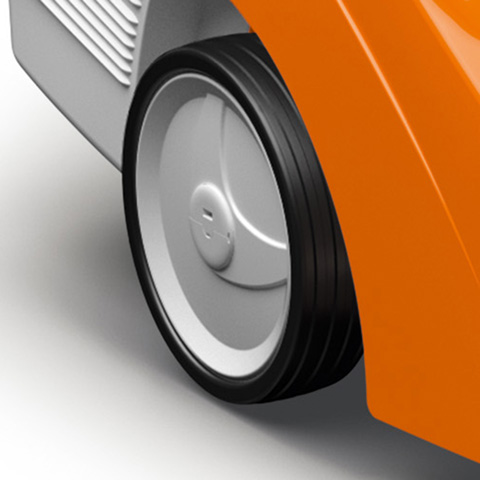 EASY-RUNNING WHEELSThe hard-wearing wheels on the RMA 339 C have traction and tread patterns that are designed to make it easy for you to move the mower around your flower beds, trees and other obstacles in the garden.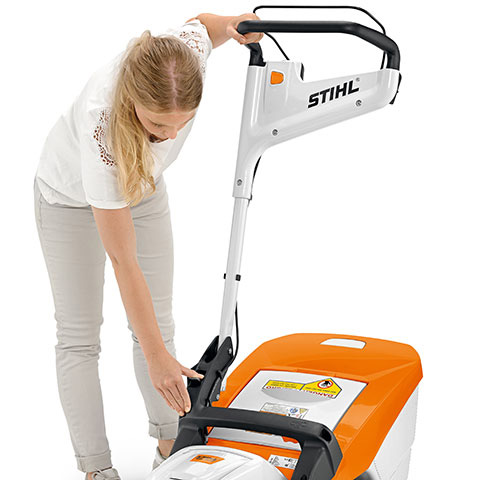 FOLDABLE HANDLEBARThanks to its foldable handlebar, the battery-powered lawn mower can be quickly and easily folded. This enables the STIHL lawn mower is be stored very compactly or moved to the next place of useEco mode.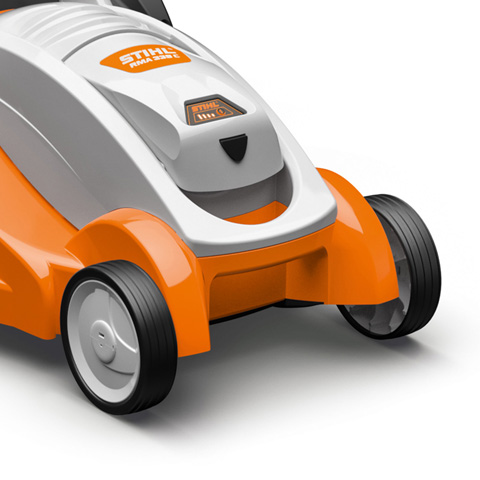 ECO MODEThe RMA 339 C has an automatic eco mode which increases or decreases the blade speed, depending on what you are cutting, to make the most of the battery life so you can mow for longer.
CLEVER DESIGN FOR MAXIMUM AIRFLOWThe airflow produced by the blades channels the clippings directly into the grass catcher box to make sure it fills right to the top. The grass level indicator on the top of the box then drops down so you know exactly when to empty it.
***If a Delivery is required, there may be a Carriage Charge. Please call for details***
Tech. Specification
Releated Products & Accessories
Product Reviews (0)
©2022 Frank Nicol Farm & Garden Machinery Ltd
Website by Navertech