Logic Super Harrow LSH200PD
c/w Lifting Actuator, Depth Control & Control Box
Logic Super Harrow LSH200P
The Super Harrow can be used on menages to quickly dress the top surface. The Super Harrow is excellent on all-weather gallops, quickly grading the surface ready for the next session.
Please call our Sales, Service or Parts teams on 01349 863854 for any enquiries.
Full Description
Tech. Specification
Releated Products & Accessories
Product Reviews (0)
Full Description

Super Harrow LSH200PD c/w Lifting Actuator, Depth Control & Control Box
This Super Harrow represents the very best in harrow technology.
It has special spring tines mounted on a frame which ensures that the tines are kept in firm contact with the surface at all times, giving superior dead grass removal and soil scarifying action as well as dressing the surface on the ménage or all-weather gallop.
Developed by Einbock TM (the number one brand for agricultural harrows), this technology pioneered organic weeding and plant stimulation methods. The 2.0m width gives good work rates and the tine settings are adjustable to cope with different conditions.
A 12v control box sited next to the operator enables the raising and lowering of the tines via an electric ram.  This means the operator can quickly put the harrow in and out of work mode without leaving the driver's seat, allowing easy transport between sites and increased manoeuvrability in awkward areas.
The construction benefits from Logic's legendary strength and attention to detail and the Super Harrow can be towed behind any suitable vehicle.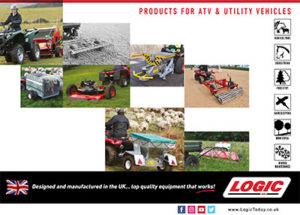 For local deliveries in the Highland and the Isle of Skye we use our own delivery vehicles and are able to do a Pre-Delivery Inspection (PDI), test and hand over products within Highland's postcode area.
Frank Nicol FGM Ltd are able to provide a comprehensive distribution service to the majority of the UK. Please note that due to the size and weights of these products they may incur a delivery charge over and above those displayed at the checkout. 
Out with the Highlands it would be advisable to contact us before placing your order to discuss any possible delivery charges.
Tech. Specification
Releated Products & Accessories
Product Reviews (0)
©2022 Frank Nicol Farm & Garden Machinery Ltd
Website by Navertech