Karcher HDS 5/11 UX Hot Water High Pressure Washer
Karcher Hot Water High Pressure Washer HDS 5/11 UX
The HDS 5/11 U is a compact hot water pressure washer which features a 3-piston axial pump and air-cooled 2-pole electric motor.
Please call our Sales, Service or Parts teams on 01349 863854 for any enquiries
Full Description
Tech. Specification
Releated Products & Accessories
Product Reviews (0)
Full Description

High Pressure Washer HDS 5/11 UX
The HDS 5/11 UX is a compact hot water pressure washer which features a 3-piston axial pump and air-cooled 2-pole electric motor. The machine allows for easy transportation and storage thanks to its low weight, compact upright design and large diameter wheels, and is small enough to be transported in a typical estate car. With simple OFF-COLD-HOT operation, the 5/11 U is the perfect machine for light-medium duty cleaning tasks where time is of the essence.
Innovative upright design
Effortless transport over landings or stairs. Large wheels for unpaved surfaces.
Fine-mesh water filter
Efficiently protects high-pressure pump against contamination. Easy to remove from outside.
Compact design
Space-saving storage and transport. Spill-proof pump and fuel tank for transport lying down. Ideal for small service vehicles.
Equipment
Trigger gun, EASY!Force Advanced
High-pressure hose, 10 m
Spray lance, 840 mm
Pressure switch control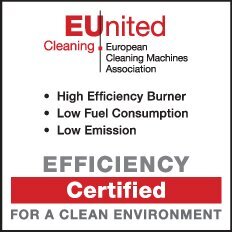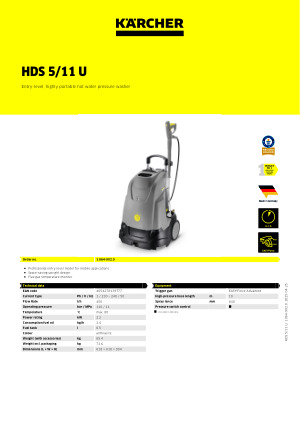 APPLICATION AREAS
Vehicle cleaning
Equipment and machinery cleaning
Workshop cleaning
Cleaning outdoor areas
Service station cleaning
Façade cleaning
Swimming pool cleaning
Cleaning of sports facilities
Cleaning in production processes
Cleaning production systems
The Kärcher Professional machines offer a wide range of cleaning solutions across all industry channels
All Kärcher professional machines are covered for 1 year manufacturing guarantee when purchased directly with Kärcher UK.
1.      All warranty periods commence on the date of purchase and are non-transferable.
2.      The guarantee is limited to the provision of repairs, free of charge within the specified period providing the conditions are met.
Guarantee does not cover;
The Kärcher Guarantee is a manufacturing cover for your professional product. This Guarantee shall not apply to defects caused by;
·        Misuse
·        Neglect
·        Accidental Damage
·        Improper storage
·        Installation or careless handling
·        Frost damage/heat damage
·        Alteration not carried out or authorised by Karcher approved supplier
·        The use of incorrect supply voltage
·        Contaminated water supply
·        Unsuitable chemicals
Professional product guarantee does not cover accessories.
If your Professional machine was purchased with a retailer or supplier you must contact them to initiate a guarantee claim.
For local deliveries in the Highland and the Isle of Skye we use our own delivery vehicles and are able to do a Pre-Delivery Inspection (PDI), test and hand over products within Highland's postcode area.
Frank Nicol FGM Ltd are able to provide a comprehensive distribution service to the majority of the UK. Please note that due to the size and weights of these products they may incur a delivery charge over and above those displayed at the checkout. 
Out with the Highlands it would be advisable to contact us before placing your order to discuss any possible delivery charges.
Tech. Specification
Releated Products & Accessories
Product Reviews (0)
©2022 Frank Nicol Farm & Garden Machinery Ltd
Website by Navertech