CONTROL BOX
Additional control box to allow machine to be used behind on additional towing vehicles without swapping the control electrics over – ideal if the feeder is used on multiple vehicles.
EXTENSION SIDES*
Increases loading capacity up to 500kg perfect for saving less trips between fields and the larger game shoots.
*Only available for load bed capacity of 600kg+ Not suitable for UTVs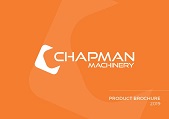 The Chapman Warranty Chapman Machinery Ltd (herein 'Chapman' or 'Chapman Machinery') warrants that the machine referred to in the Warranty Registration Form will be free from manufacturing defects for a period of 24 months from the date of sale. This warranty does not affect your statutory rights, but merely adds to them. Should you have a problem within 24 months from the date of sale please contact your original dealer, or Chapman Machinery's Service Department.