Stiga Park 540 PX - 4WD Out-Front Ride-on Mower
The Stiga Park 540 PX – 4WD features a single cylinder 500cc Briggs & Stratton Intek, series 4185 engine, hydrostatic transmission, genuine articulated steering and a choice of Multiclip front mounted cutter decks with working widths from 95cm to 110cm.
Please contact our Sales, Service or Parts teams on 01349 863854 if you have any questions. Please select a deck from the options below:
Please select a Deck from the options below:
All Decks are Quick Flip Deck (QF)
Full Description
Tech. Specification
Releated Products & Accessories
Product Reviews (0)
Full Description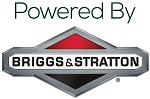 The STIGA Park 540 PX front-cut ride-on mower is the perfect solution to manage very big lawns that need to be cut frequently. The front mower is equipped with a petrol-powered Briggs & Stratton engine with 500 cc displacement.
The 4WD traction ensures superb grip on any kind of terrain, while hydraulic power steering ensures great maneuverability and the pedal-operated hydrostatic transmission helps better control the speed.
The Park 540 PX features 50:50 articulated steering, with the rear wheels following the same path as the front wheels; the new hydraulic steering system makes steering smoother and easier. With the rear of the machine perfectly following the front, the operator can just focus on the area to be cut, without worrying about any accidental damage.
Comfort is guaranteed with a conveniently positioned side control panel, adjustable padded seat, LED headlight and electrical adjustment of the cutting deck so you can set the cutting height in a matter of seconds while keeping the motor running and remaining comfortably seated.
The Park 540 PX can be paired with Combi cutting decks from 95 to 125 cm with QuickFlip technology. All cutting decks can also cut in rear discharge mode.
Warranty 5 Years
Chassis Warranty 10 Years
***For local deliveries in the Highland and the Isle of Skye we use our own delivery vehicles and are able to do a Pre-Delivery Inspection (PDI), test and hand over products within Highland's postcode area.
Frank Nicol Ltd are able to provide a comprehensive distribution service to the majority of the UK. Please note that due to the size and weights of these products they may incur a delivery charge over and above those displayed at the checkout. 
Out with the Highlands it would be advisable to contact us before placing your order to discuss any possible delivery charges.***
Tech. Specification
Releated Products & Accessories
Product Reviews (0)
©2021 Frank Nicol Farm & Garden Machinery Ltd
Website by Navertech