ATV Maxxis Tyres 25/10/12, 44M (6 Ply) CST C9311 Ancla Tyre 'E' Marked 20psi. Fitted
ATV Maxxis Tyres 25/10/12, 44M (6 Ply) CST C9311 Ancla Tyre 'E' Marked 20psi. Fitted
Please don't hesitate to contact our Sales, Service or Parts teams on 01349 863854 if you have any questions.
Full Description
Tech. Specification
Releated Products & Accessories
Product Reviews (0)
Full Description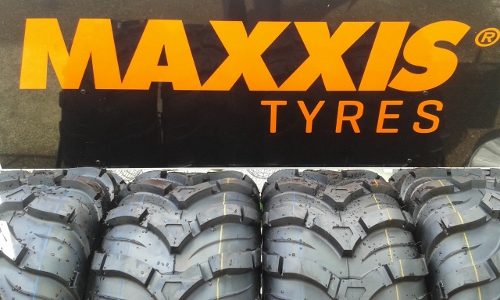 ATV quality tyres delivering the high performance you demand, and the reliability you expect. Maxxis ATV tyres are Original Equipment fit by a whole host of premium manufacturers including: Arctic Cat, BRP Can-Am, Honda, John Deere, Kymco, KTM, Kawasaki, Polaris, TGB & Yamaha to name but some.
Maxxis ANCLA 25/10/12 £57.50 + VAT (£69) Fitted
Maxxis ANCLA 25/8/12 £49.17 + VAT (£59) Fitted
The ANCLA ATV tyre from Maxxis features an aggressive, sweeping tread design which provides superior traction on all types of terrain. Its deep, widely spaced tread bars shed mud easily to provide traction and it's tough construction ratings provide extra puncture resistance. All sizes are 'E' marked for on road use giving maximum versatility. This tyre has a maximum inflation pressure of 20PSI.
Tech. Specification
Releated Products & Accessories
Product Reviews (0)
©2022 Frank Nicol Farm & Garden Machinery Ltd
Website by Navertech