Lumag RP130-HPC 25KN 18″ Petrol Fwd / Rev Compactor Wacker Plate
Lumag RP130-HPC 25KN 18″ Petrol Fwd / Rev Compactor Wacker Plate
This machine is powerful and manoeuvrable, great for large paved areas, trench, and groundwork.
Please call our Sales, Service or Parts teams on 01349 863854 for any enquiries.
Full Description
Tech. Specification
Releated Products & Accessories
Product Reviews (0)
Full Description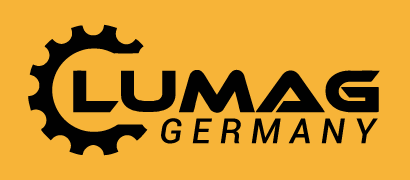 RP130-HPC 25KN 18″ Petrol Fwd / Rev Compactor Wacker Plate
The Lumag brand is known throughout Europe for its professional quality and affordably priced Wacker plates. We offer a wide variety of compactor plates ranging from 60 to 300 kg. Our wacker plates have engines ranging from 87cc Loncin Petrol engines up to a 406cc Electric Start Diesel engines. We also offer Compactor Wacker Plates in our range that have reverse function dramatically improving manoeuvrability on the heavier Wackers, these machines are also great for work in trenches.
The compactor wacker plates are designed with durability and ease of use in mind. They have thick steel base plates and high quality agitator bearings which maximise the lifespan and efficiency of the machine. The handles are mounted on a rubber pivot and covered by a comfortable foam layer to reduce exposure to hand vibrations. For ease of storage the majority of the range also have folding handles. All our wacker plates have an integrated lifting eye to assist with manual handling.  All of our compactor wacker plates INCLUDE a rubber paving mat and transport axle. We have such confidence in our compactor wacker plates that we are also offering up to a 5-year warranty*
The new Lumag RP130-HPC is a forward/reverse compactor plate. This machine is powerful and maneuverable, great for large paved areas, trench, and groundwork. Fitted with the excellent Loncin engine (A Honda can be fitted at extra cost). The machine is easily controlled from the rubber mounted  handle with both throttle and directional controls close at hand.  The engine cover frame has an integral lifting eye and the machine comes with a rubber paving mat and transport wheels worth £145.00.
All petrol engine Wacker Plates are covered by a 5 year domestic warranty (2 year for commercial). For your warranty to be valid you will need to complete and return your warranty registration form.
For local deliveries in the Highland and the Isle of Skye we use our own delivery vehicles and are able to do a Pre-Delivery Inspection (PDI), test and hand over products within Highland's postcode area.
Frank Nicol FGM Ltd are able to provide a comprehensive distribution service to the majority of the UK. Please note that due to the size and weights of these products they may incur a delivery charge over and above those displayed at the checkout. 
Out with the Highlands it would be advisable to contact us before placing your order to discuss any possible delivery charges.
Tech. Specification
Releated Products & Accessories
Product Reviews (0)
©2022 Frank Nicol Farm & Garden Machinery Ltd
Website by Navertech