Lumag MD500H Pro 500kg Petrol Mini Dumper with Hydraulic Tip
Lumag MD500H Pro 500kg Petrol Mini Dumper with Hydraulic Tip
Please call our Sales, Service or Parts teams on 01349 863854 for any enquiries.
Full Description
Tech. Specification
Releated Products & Accessories
Product Reviews (0)
Full Description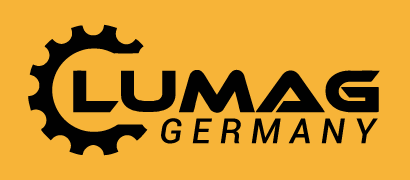 MD500H Pro 500kg Petrol Mini Dumper with Hydraulic Tip
The Lumag brand is known throughout Europe for the professional quality and affordable price. The domestic and semi pro range includes a wide variety of tracked and wheeled dumpers ranging from 300 to 500 kg.
Lumag dumpers are ideal for transporting materials such as sand, salt, gravel, building materials, garden waste, stone, wood etc. The great advantage of these dumpers is the width, with a width of between 64 and 87cm the dumpers should fit through the majority of gates and narrow paths.
The tracked dumpers are particularly good for use on steep slopes and rough/uneven terrain due to the excellent grip provided by the rubber tracks.
The wheeled dumpers are particularly good for use on smooth, slippery and/or muddy soils due to their chain driven 4 wheel drive and skid steering which offer considerable grip and will allow you to go nearly anywhere. The skid steer system allows you to spin nearly on the spot with no need for lifting or dragging.
The Lumag MD500H PRO mini dumper is based on the original Lumag MD500H configuration . It offers the same reliable, easy starting Loncin engine and simple drive system but with a "dumper style" tipping butt that is more suited for shifting sand, soils etc. Tipping is fully mechanized by the hydraulic ram. The machine is still only 700mm wide and great to get in those hard to reach areas.
The new Pro model now has a innovative Japanese gearbox making a huge difference in usability and efficiency. The chassis has been further improved increasing ground clearance and off road ability.
All Tracked Barrows are covered by a 2 year domestic warranty (1 year for commercial).
For your warranty to be valid you will need to complete and return your warranty registration form.
For local deliveries in the Highland and the Isle of Skye we use our own delivery vehicles and are able to do a Pre-Delivery Inspection (PDI), test and hand over products within Highland's postcode area.
Frank Nicol FGM Ltd are able to provide a comprehensive distribution service to the majority of the UK. Please note that due to the size and weights of these products they may incur a delivery charge over and above those displayed at the checkout. 
Out with the Highlands it would be advisable to contact us before placing your order to discuss any possible delivery charges.
Tech. Specification
Releated Products & Accessories
Product Reviews (0)
©2022 Frank Nicol Farm & Garden Machinery Ltd
Website by Navertech